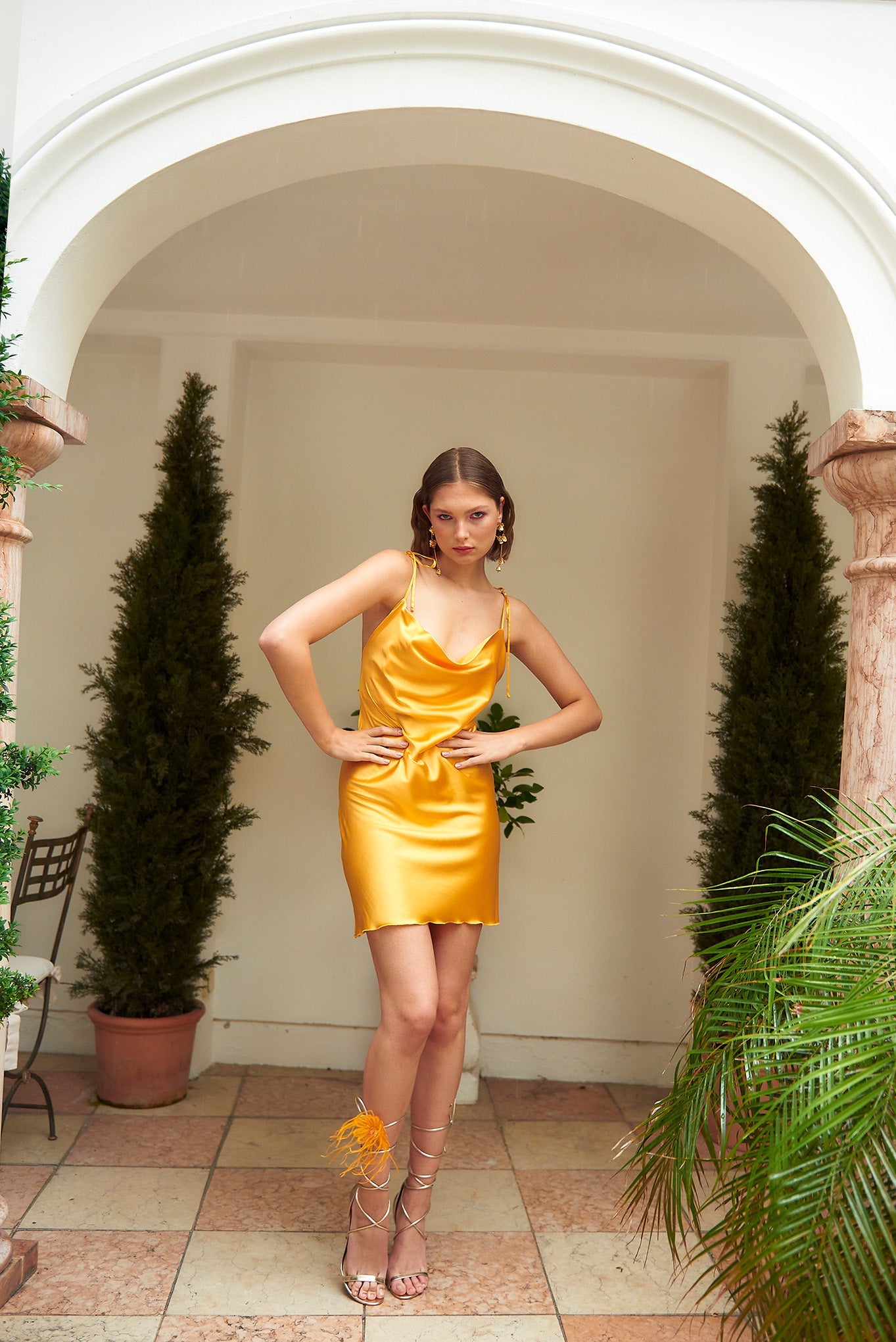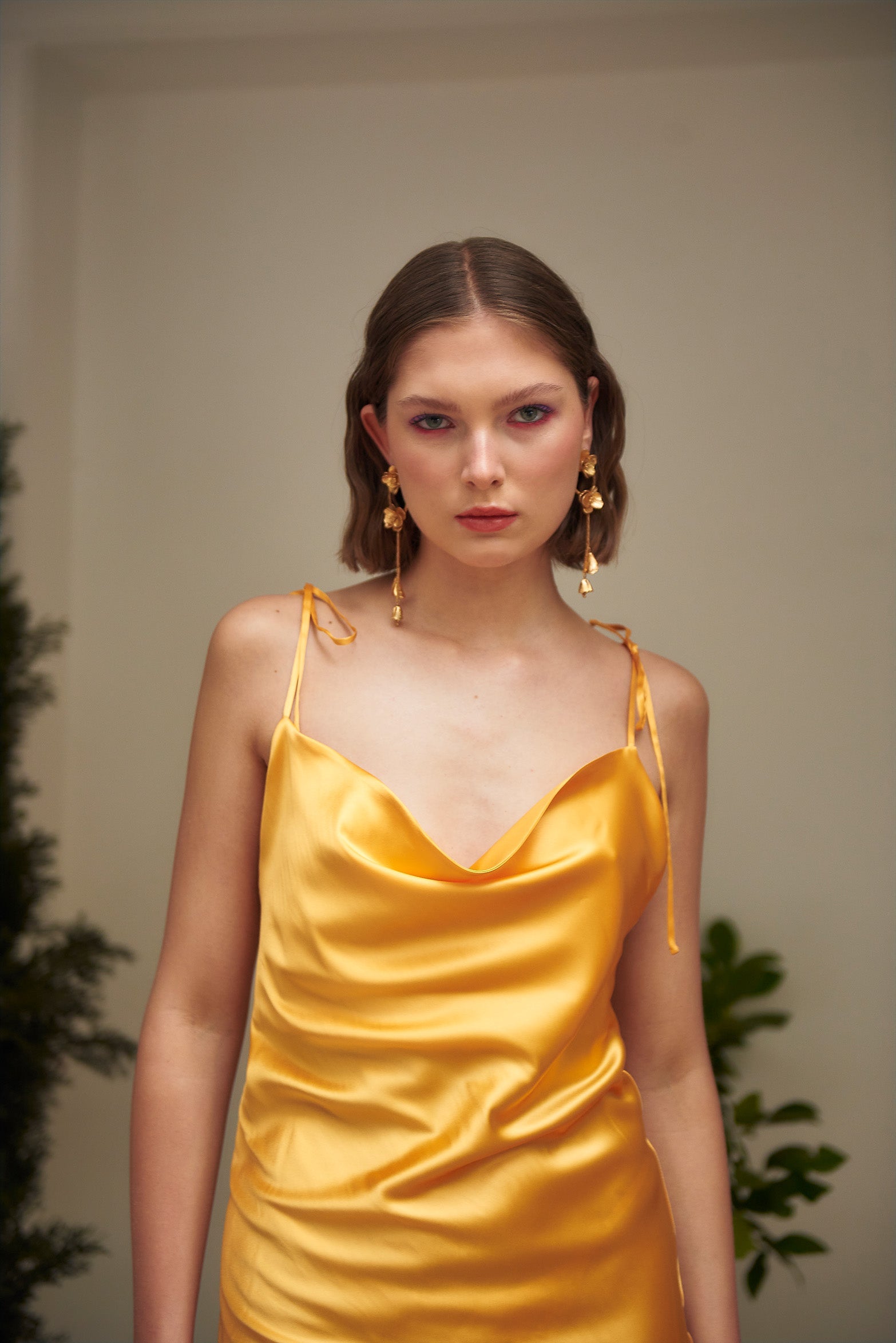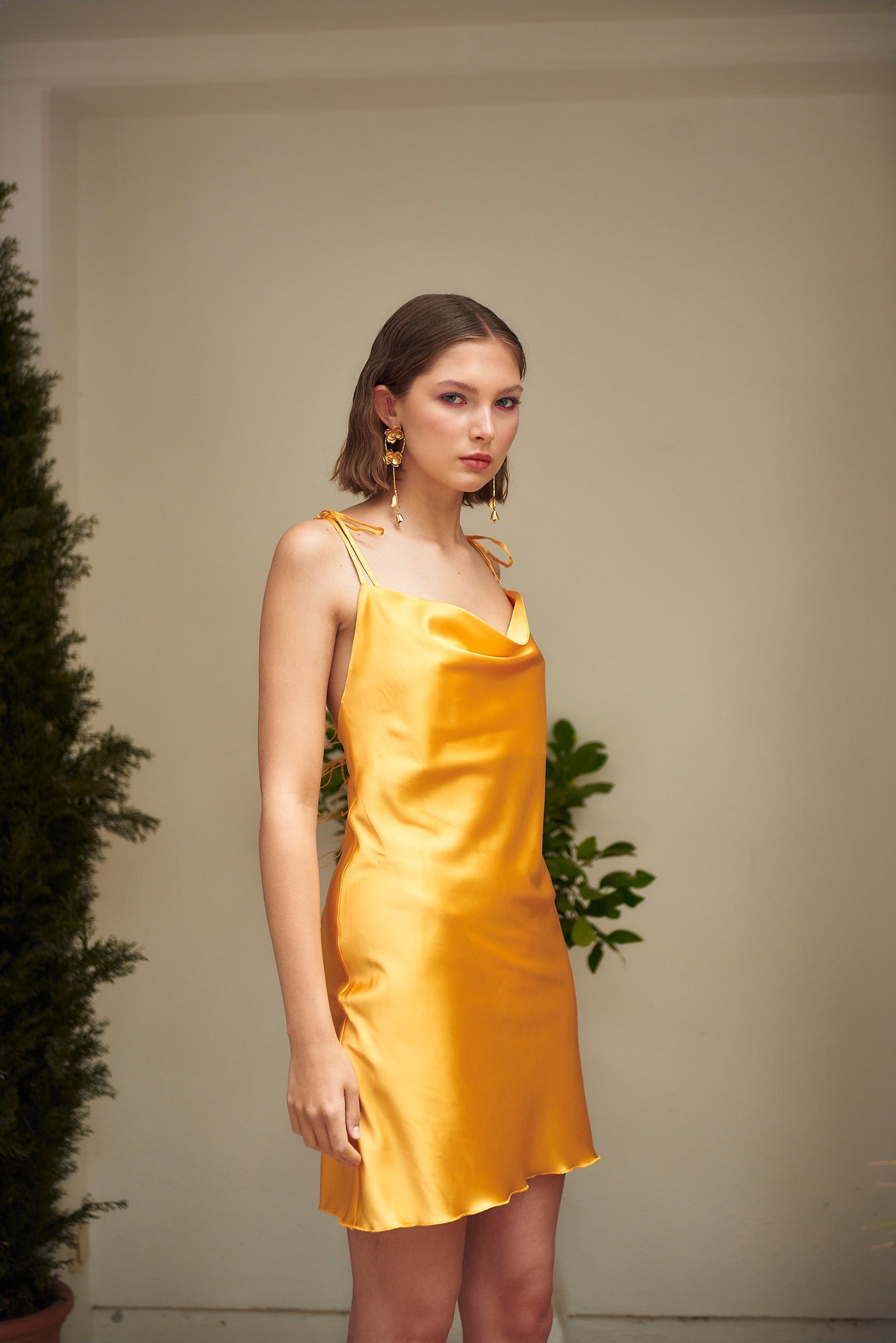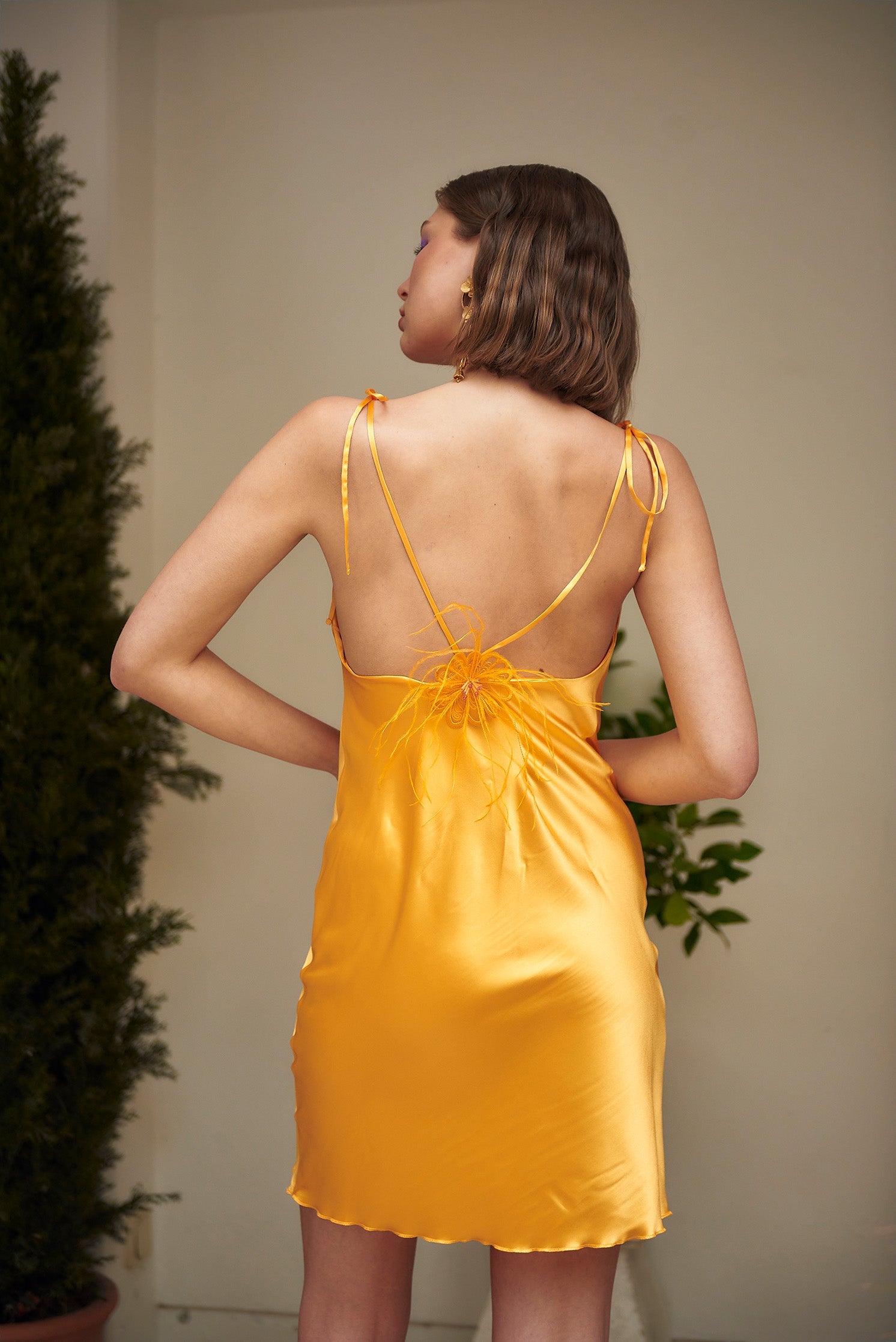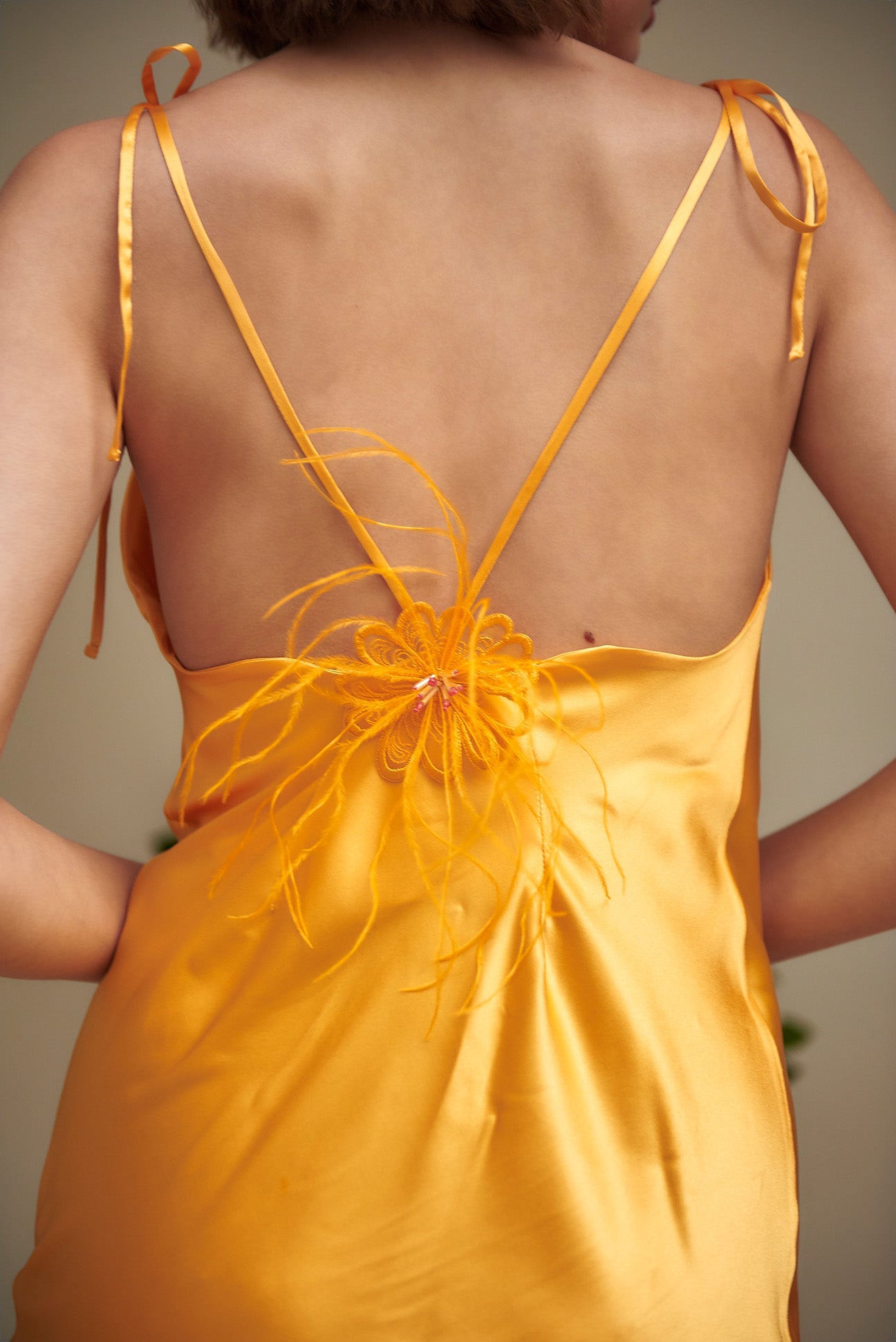 Midnight Sonata Mini Slip Dress
"Why wish upon a star, when you can shine just as bright?"
HANDMADE IN GERMANY
Made for: Divas, Star-Gazers, Daydreamers and Nigh Thinkers, Luxury Beach Parties in Tulum
The model is 177 cm tall and wears size 34/36 DE
Form & Features
Bias cut, also known as "The Cut of Female Seduction"
Waterfall neckline in the front
Deep v-cross neckline in the back
Slim adjustable shoulder straps
Like Circe spinning enchantments under the golden rays of the sun, you'll make heads spin with this smooth golden-mango colored mini dress. Merging your natural summer glow with the treasured shine of Italian Silk Satin. A picture of delicious dizzying confidence. This statement piece clearly signals that each moment spent with you is precious. A refined, timeless cut, with a deep v-cross neckline and a mango-colored flower that together accentuate the natural symmetry of your back. Making you look like a vision in gold whether you stand in front of a backdrop of sparkling city lights, are setting foot on a stage or are sitting on a lone bar table, enjoying the cool night air. You'll remain an unforgettable sight. Shining in unison with the farthest stars.
Material:
94% Italian light-weight stretch silk satin in fresh mango, 6% EA.
Highlights:

Gently waved back cut-out, inspired by the soft, rounded edges of flower petals in full bloom
Detail: A mango-colored 100% silk organza flower: The added flower is a representation of the collection's main print. Handmade from artisans in India, with 100% ostrich feathers, hand embroidered details and pink glass beading. Every flower is unique.
DISCOVER NEW STYLES